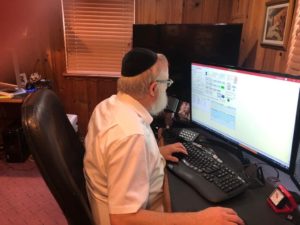 On March 16​th, under the guidance of our esteemed Av Beis Din, Rabbi Yona Reiss​, and ​our Board of Directors, the cRc closed its offices due to the COVID-19 pandemic.  This presented a unique challenge to us during what can be considered our busiest season. With Passover just a few weeks away, the cRc's ​leadership role ​for the community during this time was being put to the test.  The cRc offers many services to help the community prepare for Passover. How would the hundreds of phone calls be managed when its Rabbis were  spread out across the community? With the annual Passover Fair canceled, how could we help the community with kosherizing their items for Passover?  Many Passover programs were canceled, leaving hundreds of people with the need to make Passover perhaps the first times in their lives.  Was there something that we could to help ease their anxiety?
To no one's surprise, the cRc successfully rose to the challenge. Under the direction of our Kashrus Administrator, Rabbi Sholem Fishbane, and Director of Kashrus Operations, Rabbi Akiva Niehaus, protocols were developed ​well before the middle of March, in anticipation of transitioning from the cRc headquarters to home office settings.  The cRc provided phones, computers, wireless hotspots, and other devices to their employees, so everyone would be immediately prepared to be available during regular business hours and continue with their regular workload.  The cRc staff then had the tools needed to work from home, allowing the cRc to continue to function fully.
Utilizing the talents of the staff and the wonders of modern technology, the cRc took to the world of social media to help guide the community.  We uploaded 10 videos on our YouTube Channel with pertinent information to help the community prepare for Passover.  These videos were published and posted on Facebook, Twitter and Instagram to ensure the widest audience possible.  Additionally, several short videos were posted on Instagram.
The cRc also held its first Zoom seminar. With Rabbi Dovid Cohen and Rabbi Dovid Aronin hosting, and over 200 people participating from across the country, the cRc was able to help the community navigate the complex laws of kosherizing needed to prepare one's home for Passover.
With skill and ingenuity, the cRc was again able successfully lead the community during this past Passover season.  And while the cRc faces new challenges during this time, we are able to stand proud at what was achieved, and look towards the future knowing that we can accomplish great things, even during unusual times.